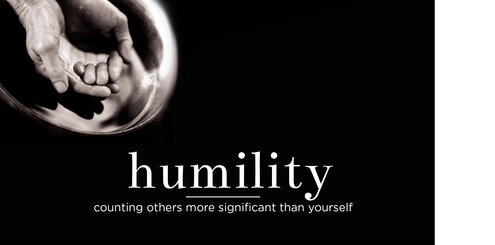 Family Life Conference
April 10, 2022
Fact: No one is more humble than Jesus. He held onto his deity, but embraced ultimate humility by becoming a human and dying on the cross for our sin. The Apostle Paul tells followers of Jesus that His chosen humility is our encouragement and model (Philippians 2:1-8). How much of our internal struggle and external struggle is due to a lack of humility? Does the watching world know we follow Jesus because we emulate his lowliness of heart?
1 Peter 5:5 says, "...clothe yourselves, all of you, with humility toward one another, for "God opposes the proud but gives grace to the humble."
Please join us this year as we learn about how we as a church family can clothe ourselves humility and how humility is central to all of our life in Christ, including anger, dealing with sin, and serving others. This is a FREE event by RSVP is required by Wednesday, April 6th. See the link below.
Sunday Morning
From Pride to Humility
Combined Adult Bible Hour
How to deal with Anger?
Sunday Afternoon Session #1 @ 3:00pm
When Should Love Cover Sin?
Sunday Afternoon Session #2 @ 4:00pm
How to Move from Selfishness to Loving Others?
(A Practical Look at the 35 One Another's)
We will end with Dinner & Fellowship at 5:00pm!
Childcare is available for the afternoon sessions for Ages 0-6th grade.




About our Speaker
Dr. Stuart Scott teaches in the area of biblical counseling at The Master's University graduate program in Santa Clarita, CA and teaches adjunctly at The Southern Baptist Theological Seminary in Louisville, KY. He brings more than 35 years of experience in counseling and pastoral ministry, including nine years as associate pastor of family ministries and counseling at Grace Community Church in Sun Valley, CA, serving under John MacArthur. He serves currently as the Member Care Director and a Fellow with the Association of Certified Biblical Counselors (ACBC).
Dr. Scott is the author of The Exemplary Husband; From Pride to Humility; Communication and Conflict Resolution; Anger, Fear and Anxiety; Biblical Manhood, Leadership and Decision Making; The Faithful Parent: A Biblical Guide for Parenting (co-authored with Martha Peace); and most recently, Killing Sinful Habits: Conquering Sin with Radical Faith (co-authored with his wife, Zondra Scott). He has contributed to Think Biblically, Christianity and Counseling – Five Approaches and co-edited Counseling the Hard Cases.
Dr. Scott and his wife Zondra have been married for over 36 years and have two grown children, Christa and Marc, and two grandchildren. They currently live in Santa Clarita, CA.
This is a FREE event by an RSVP is required by Wednesday, April 6th.